Challenge, beauty, solitude, awe, inspiration, renewal, camaraderie. Grand Canyon: One of the seven wonders of the natural world.
Into the Wild: Grand Canyon
October, 2019
A Wilderness Adventure
Lonner Holden, trail leader
Journey to the Inner Grand Canyon. Enter into that timeless depth where light, sky, stone, and river inspire and awaken connection to the source of creation.
---
Exclusive guided rim-to-rim backpacking retreat.
---
To register:  Lonner Holden (888)840-3440 email: writingwildadventures@gmail.com
(Limited to 6 participants.) www.intothewildjourneys.com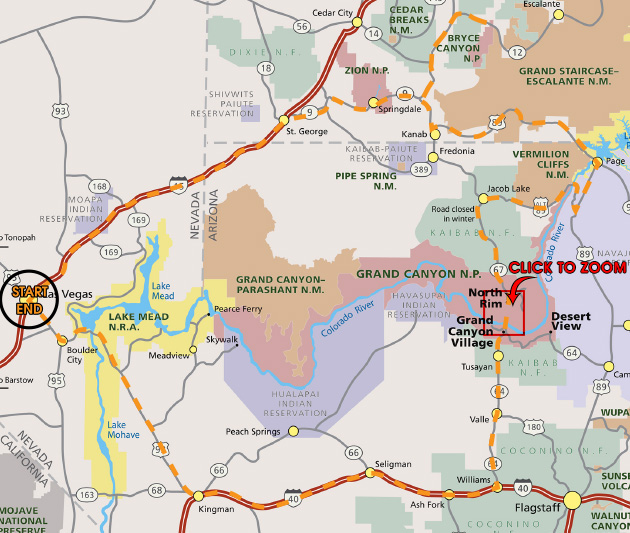 Be one of those rare people who rewards themselves with a once-in-a-lifetime rim-to-rim Grand Canyon backpacking adventure.
Very few of Grand Canyon National Park's annual five million visitors spend at least one night below the rim of the canyon. Even if you are not an avid backpacker or hiker, that can be you.
This trip is an exceptional value with a dynamic itinerary and unique trip activities.
We travel from Las Vegas through the majesty of Zion National Park, the red-rock spires of Bryce Canyon National Park, hike a slot canyon, view ancient ruins and petroglyphs, meet rugged locals impassioned with the wild beauty they live in, camp at the foot of the Escalante Bench and float down the Colorado River before arriving at the Grand Canyon's North Rim. (see map)
The high country foliage is turning ruby and amber with occasional frosty mornings in the autumn. Deep in the immense architecture of the Grand Canyon it is balmy, luminous, and the single, jagged-edged turquoise stained glass skylight of the great stone cathedral looms a mile above, as if calling attention to what is highest within oneself. Come and listen. What will you hear?
Your Into the Wild Journey 
Includes:
 The hard-to-get permits

 Reservations for lodges, cabins & campsites

 Trip preparation support for your fitness, well-being, gear and safety

 Alternating easy day hikes with point-to-point day treks

 Your Trail Leader's backcountry hard skill experience

 Daily free time periods 

 Three meals a day

 A commitment to your being well prepared so that you can move with more comfort and confidence on the trail.

(read more…)
 And is enriched with:
 Local lore and Grand Canyon natural history

 Techniques for wilderness self-care

 Ancient nature connection practices like animal tracking, bird language and making friction fire

 

Restorative Nature Practice™

to enhance sensory awareness, health & well-being